Cougars 21 Lobos 17
Well, it wasn't pretty, but it was exciting. The Cougs, down by 10 in the fourth, get a late drive and a blocked punt to beat the stubborn New Mexico Lobos. Some quick thoughts…
-The Cougs had damned well better find a running game pretty soon. For someone so heralded coming out of the JUCO ranks, Chris Bruhn has done nothing at WSU.
-The offensive line was no great shakes either. I know NMU has a quick and attacking defense, but five sacks? C'mon...
-The defense was as good as could be expected. This team is fast and athletic, but still very young, and prone to some dumb mistakes. The option ate them alive tonight. Hopefully they can fix that.
-Troy Bienemann is a damn fine tight end. On most occasions, he's the best player on the field.
-It's ridiculous that WSU, after 30 wins in 3 seasons, is the only 2003 Top-10 team not ranked in any poll. Yes, they lost a lot, but doesn't recent history count for anything?
-Thompson, Rypien, Rosenbach, Bledsoe, Leaf, Gesser... now this guy?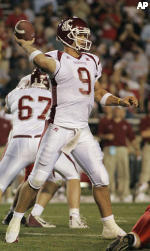 Who knows, but Josh Swogger was pretty good in his first ever start, and got better as the game went on.
-The Huskies open their season on Sunday, on FSN, at home against Fresno State. They're gonna lose.
-This has nothing to do with WSU, but it's obvious that my old high school doesn't read my stuff on football uniforms. If they did, they would know that this look is just terrible. Nice win though.
Posted by Frinklin at September 4, 2004 12:03 AM