You gotta love soccer hooligans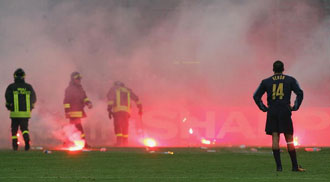 Is this some odd soccer tradition that I didn't know about? Bring flares to a game? For those who haven't seen the amazing video on ESPN and elsewhere, the Champions League quarterfinals between AC Milan and Inter Milan was upset after more than 30 flares were tossed onto the field. The first flare hit and injured a player. The game was halted for 25 minutes before being suspended.
What's really incredible is that this is the second time this season that there has been a flare-related incident at an Italian soccer stadium. In September a game between AS Roma and Dynamo Kiev (gotta love European club names) was halted by hooligans throwing flares. To makes matters worse, later on in this tournament, Liverpool and Juventus will face each other for the first time since a riot left 39 people dead in 1985.
My only possible reaction is: What the hell is wrong with these people?
Posted by Frinklin at April 12, 2005 08:52 PM