It worked for the Jets, dammit!
The (again) NotSoSuperSonics busted out their throwback jerseys in a loss to New York on Tuesday, and despite my liking the current look, I can't for the life of me understand why they just don't bring back the lightning bolt full-time.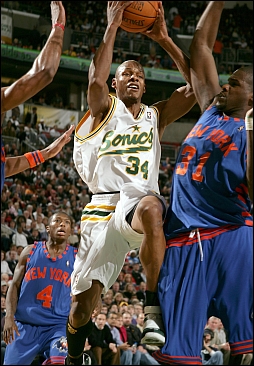 In other Supes News, thanks to the team's ArenaWatch web page, you can track the need for a new basketball stadium. Despite the fact that KeyArena was completely gutted and renovated in 19-freakin'95.
Posted by Frinklin at December 8, 2005 09:47 PM | TrackBack