Jamie? Not Jamie!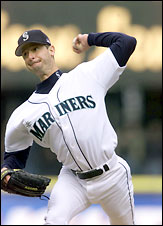 The lead story on the local news tonight was not continued unrest in the Middle East, or American soldiers dying in Iraq or the wierd spate of fatal car accidents that has struck the Seattle are. It wasn't even the amazing weather, which is odd since the local stations usually fall over themselves trying to prove it gets sunny around here.
No, the lead story was longtime Mariner Jamie Moyer getting traded to the Phillies. Both anchors, the weekend sports guy and a reporter "on-location" at a sports bar near Safeco Field.
A touch of overkill.
I understand the sentiment. Moyer has been a rock in the community since the day he arrived in Seattle. His Moyer Foundation has done amazing work in the area, and it's always been assumed that he would retire a Mariner and probably end up in the front office somehow. He still might. A free agent at the end of the year, Moyer would certainly consider coming back to Seattle if he decides to pitch again next year. For right now though, another M recognizable to the non-sports fan has left, one of the few connected to the glory year of 2001 and the only left who played with Jr, Alex, Randy Johnson and Jay Buhner.
Pretty nice; Moyer won 145 games as a Mariner, and all they gave up was this guy.

Posted by Frinklin at August 19, 2006 11:15 PM | TrackBack