Amateur Comic Review: Week of 2-28-2007 and 3-7-2007
Okay, this didn't work out quite as I'd hoped. I missed last week as real life caught up with me. Moving my office and getting a new puppy does that. Also, this is a Captain America #25-free zone. I usually read the book, but I've never gotten around to getting it on my pull list. Ooops...guess I wait for the inevitable reprint.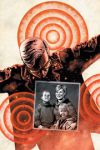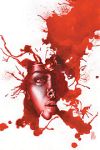 52 Week 43-44
Was it just two weeks ago I raved about this title? After a series of strong issues, 52 is off the rails. Week 43 brings back the just awful space opera storyline and resurrects Lady Styx for some unknown reason. The rest of 43 and all of Week 44 concentrates on the disintegration of the Black Marvel family. DC – in a spoilerrific move that seems like something Marvel would do – let it slip that Black Adam would be the villain for the upcoming World War Three. Now, since Adam has spent the previous 42 weeks not being a villain, it doesn't take a genius to figure out that something awful would happen to his wife and brother-in-law. And Holey Moley do some awful things happen here: Osiris gets eaten by Sobek (revealed to be the Fourth Horseman of Apokolips) and Isis is killed. Now, as Isis dies she tells Adam to avenge her, merely contradicting every single thing we've ever seen about this character.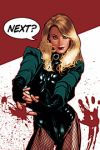 Justice League of America #6
Are you kidding me? Six issues of this moronic Red Tornado's-a-real-boy-now crap and we end exactly where we started from? Does Brad Meltzer not realize that nobody other than him gives a goddamn about this guy? Not only was this storyline absurdly drawn out, but it was terrible to begin with. I'll give this book another shot during the JSA/JLA crossover, but after that, the hell with it.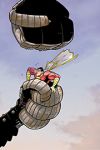 Shazam! The Monster Society of Evil
Hey, a DC book that doesn't suck. Jeff Smith's Prestige series revamp of Captain Marvel continues to charm, expanding on the relationship between Billy and Cap, introducing a lovely take on Mary Marvel and featuring several pages of the Big Red Cheese beating up on giant talking alligators. Plus an origin for Tawky Tawny that totally works. Just a fun comic book.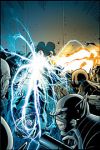 Supergirl and the Legion of Super-Heroes 2-28-2007
The Dominator War storyline, which has basically been building since this revamp began, is heading toward a close. This densely plotted series is one of DC's best, and this issue -with a nice blend of action and character work, especially with the Ranzz brothers – proves why.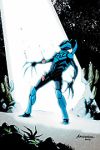 Blue Beetle #12 2-28-2007
While this isn't a particularly compelling issue (mostly settling the previous New Gods storyline and setting up the next), this underrated book is consistently entertaining. This is a revamp of a B-list character, but it's blend of mystery and spot-on teen characterization deserves better status.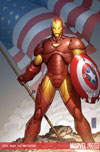 Civil War: The Initiative #1
Well, thanks Marvel. Thank you for charging me five goddamn dollars for what is basically a coming attractions book. When DC did this with Brave New World a few months back, they slapped a 99 cent price tag on it. Of course, most of the stuff in BNW was awful, so it wasn't much of a bargain. Neither is this, for that matter. We get a look at Omega Flight – which might be the most inexplicable team in Marvel history (Beta Ray Bill! USAgent! Whatever the hell the second Spider-Woman calls herself!), a look at the revamped Thunderbolts (only two months after that series began), some Avengers, a bit of Iron Man: Director of SHIELD and so on.
We learn three things: Warren Ellis isn't taking Thunderbolts all that seriously. Marc Silvestri may be the most overrated artist of the past 20 years. And Silvestri really, REALLY likes drawing Ms. Marvel's ass.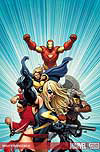 The Mighty Avengers #1
Hey, is this a light-hearted, entertaining super team book? From post-Civil War Marvel? Really?
Yep. I had high hopes for this title, and it really lived up to it. The Mighty Avengers isn't rocket science, just an old-fashioned team book with enjoyable characters and some monsters rampaging though downtown Manhattan. Brian Bendis does some of his patented banter -especially during the framing sequence with Iron Man and Ms. Marvel choosing the team. Frank Cho does some of his best work on the art, and while he's best known as a "good girl" artist, he really shines here. Reminds me a little of Kevin Maguire in places.
And the hot girl Ultron? So gloriously goofy I can't help but love it.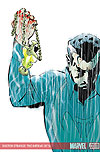 Dr. Strange: The Oath#5 2-28-2007
Please let Brian K. Vaughn and Marcos Martin do an on-going Dr. Strange series. This finale was note-perfect, and I loved it so much I may have to buy it again in trade.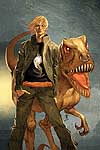 Runaways #25 2-28-2007
Another BKV finale, here wrapping up his run on the second Runaways series. There isn't much to say here, other than this has been one of the very best books available from the big two since it's first issue. This book is handed off to Joss Whedon, and there is a legitimate concern about a downgrade in quality. High praise indeed...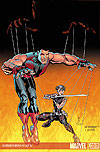 Wonder Man #3 2-28-2007
Am I the only person in the world reading this book? Well, my wife reads my copy, but I may be the only one actually buying it. I know for a fact that I'm the only person at my shop who has Wonder Man on his or her pull list. People are missing out then, because this is Peter David, and no matter what he's writing, he will do so with wit and style. Seriously, PAD could write the phone book and there would be at least one or two funny lines.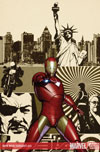 Iron Man: Director of S.H.I.E.L.D #15 2-28-2007
Ehhh... maybe. Making Tony Stark the head of SHIELD is a pretty good idea coming out of Civil War, but I'm not sold on the execution here. The rub is that Tony is running a military organization like he would his company (casual Fridays, child care, etcetera), and the old guard – in the form of Dum Dum Dugan – isn't terribly pleased. It sort of works, but it seems like such a ludicrous idea it never really takes hold. At least the Knauf brothers have some sort of handle on Tony Stark. He's not quite the loathsome fascist he was during Civil War.
Oh, and does Jim Steranko get residuals? Because Adi Granov's variant cover is the second Steranko rip Marvel has put out in as many months.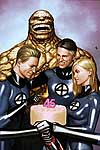 Fantastic Four #543
The FF's 45th anniversary, even though it comes about a year too late and in the midst of the Civil War-inspired implosion of Reed and Sue's marriage. Good luck with that Dwayne McDuffie. Lucky for us, McDuffie is up to the task. The main story is touching look back at the career of the four, leading up the point where Reed and Sue leave the team, leaving us with a Fantastic Four of Johnny, Ben, Storm and the Black Panther. The back-up stories, a piece of Stan Lee lunacy and a Paul Pope silver age-style tale with Spider-Man and the Torch are worth the price of admission. JMS nearly put this title in the ground, but McDuffie is well on his way to reviving it.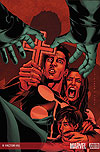 X-Factor #16 2-28-2007
This is the best X-book available, even considering the mediocre art it's been plagued with. Peter David is looking much deeper into what it means to be a mutant than most Marvel writers have, and it pays off. Here Jamie continues to track down stray duplicates, this time finding one in Vermont that has settled down in a new life and started a family. The traveling has really helped this title rather claustrophobic feel, and while the Monet and Teresa in Paris bit hasn't completely worked, the main story more than makes up for it.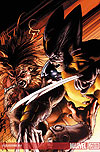 Wolverine #51 2-28-2007
Looks great, reads awful. That's really all you need to know about this title. Simone Bianchi's art is stunning, his "washed halftones" and Paul Mount's subdued colors make this a feast for the eyes. Just ignore the words, because this is Jeph Loeb at his worst. Wolverine is a muddled, confusing mess that marks a low point in the character's history. Which is saying something, since Marvel is also publishing Wolverine: Origins.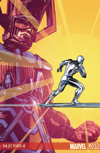 Bullet Points #5
Another great artist hampered by awful writing. I'm really rather glad this series has concluded, because I kept fighting the urge to drop it. J. Michael Straczynski's giant "What If?" story really never went anywhere, and every moderately interesting thing about it petered out. A giant waste of time.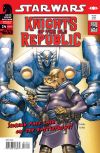 Star Wars: Knights of the Old Republic #14 2-28-2007
This book – while I really do enjoy it – almost certainly reads better as a trade. John Jackson Miller is taking the long way though his storylines, and I have no problem with that. This issue of KotOR again hews close to the video game series, reintroducing one of the best-loved characters from the games. Here we see the young hotshot Carth Onasi, a welcome antidote to the bitter Carth of the first game. This is one of my favorite books right now.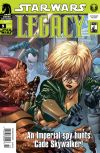 Star Wars: Legacy #9
Legacy is always entertaining, but usually derivative. This issue is no different, as writer John Ostrander seems to be repeating himself. The fringe space station, the sniveling toady, the exotically beautiful bad girl... much of this issue seems right out of his Republic series. That which doesn't, like the moments between the Emperor and his Imperial Knights work best. Having to correct a huge coloring flaw from a previous issue doesn't help matters.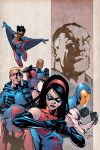 Dynamo 5 #1
The idea is terrific: A Superman-style hero who dies and leaves behind super powered illegitimate children. Those kids have to turn themselves into a team and take over his work. It is a brilliantly skewed look at the genre and really should work. And it sorta almost does. This is a first issue and as such it spends a lot of time setting things up. We also have a giant fight, a couple of interesting reveals and it all seems a little too much for one issue. Give it time though, the idea -and newcomer Mahmud Asrar's art – is brilliant.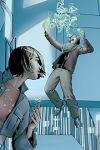 The Authority #2
Hey! The titular characters actually appear in this book. Really no point in reading this book in serial form, as there was 5 full months inbetween #1 and #2 and that should be the way it goes from here on out.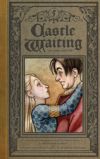 Castle Waiting #5
Linda Medley's charming fairy tale continues, and it's impressive how much the little things entertain here. Simple art, oftentimes mundane storylines, and yet it works.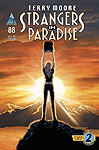 Strangers in Paradise #88
Can it really be only two more issues in Terry Moore's epic? After the shattering revelations of last issue, everyone attempts to get on with their lives. Francine comes to a decision about 5 years too late, and we begin to lean just who Casey really is. A bit of a downer after last issue, but the last two are setting up well.

Posted by Frinklin at March 11, 2007 03:34 PM | TrackBack