Amateur Comic Review: Week of 3.14.2007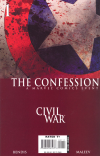 Civil War: The Confession
It's obvious from this and his New Avengers work that Brian Bendis has a much firmer grasp on Civil War than Mark Millar ever did. This book isn't perfect; some of Iron Man's speech is hopelessly whiney and his "I saw it coming" moment is kind of dumb. The upshot here is Bendis finds more raw emotion in this one-shot than then entire seven-issue run of the main book and all 11 issues of the awful Frontline.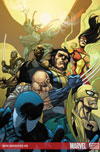 The New Avengers #28
Twenty-odd issues into the title, and New Avengers is almost as good the hype. This is a deepy weird team: Wolverine, Spider-Man, Iron Fist and Dr. Strange? Spider-Woman and the who-the-hell-knows Ronin and Echo? Still, Bendis makes this work for the most part. There is a lighthearted feel to this book, despite the team being on the run and hunted from all sides. There are a couple of glitches here, like why is Strange so much less powerful then in his own series? And why are Spider-Man and Wolverine on the run? Both are registered. Lots more good than bad here though, and Lenil Yu's art is the best he's ever done.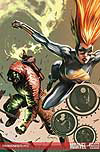 Thunderbolts #112
Some good, some bad. The good is the rather fascinating look at evil, from Norman Osborn's demented conversation with Radioactive Man to Bullseye's rather unsettling view of himself. The stuff that doesn't work? The political stuff here is way to obvious for a writer of Warren Ellis' talent. Fox News is really low-hanging fruit, and Ellis can be so much more corrosive and funny when he's in the mood.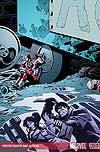 The Irredeemable Ant-Man #6
Robert Kirkman really seems to making a go of this unbelievably unlikeable super-hero. We've come full circle here, as the first arc folds in on itself. The book is still more entertaining than it has any right to be. The twist at the end is a winner.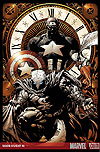 Moon Knight #8
This book never comes out, never really goes anywhere and really doesn't seem to work. I'm dropping it. I like the character, and I think Charlie Huston has some interesting ideas, but nothing seems to coalesce. David Finch's art is supposed to be a selling point, but for my money his work is as stiff as any artist working today.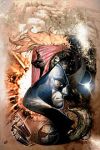 Grifter & Midnighter #1
I got no idea. I dunno what's going on here, and I'm not sure writer Chuck Dixon knows either. Don't bother.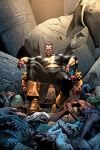 52 Week #45
The Black Adam freak-out show continues unabated, as he kills an entire country this week. This issue is OK, redeemed mostly by some nice character work between Adam and Renee and an amusingly insane Dr. Sivana at the end.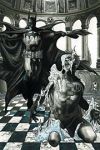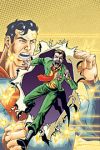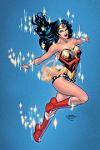 Detective Comics #829, Superman #660, Wonder Woman #5
How the hell does this happen? The Big Three all come out with fill-in issues the same week? Of the three, Wonder Woman is probably the best, despite being the title in the most jeopardy. Remember, this was scheduled to be the last issue in Alan Heinberg's run. When that was essentially canceled, this Will Pfeifer story was shoehorned in to give time before Jodi Piccoult's run begins. If DC ever decides to give this title to an actual comic book writer, Will would be an excellent choice. Here he explores how Wonder Woman can be an inspiration to battered women. Superman is a look at the Prankster, and Big Blue barely appears. Detective Comics is a moderately entertaining look at why Gotham City residents should be afraid to go anywhere in the city.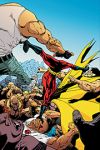 Robin #160
Still the best superhero book DC puts out, Robin launches into an interesting look at a drug that causes super powers at a huge cost, and what might happen when a nihilistic street gang might get hold of it. Adam Beechen has the voice of this character down pat, and Freddie E. Williams' art continues to be the most energetic around.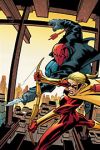 Green Arrow #72
Last issue I praised this series, just to learn it's history as of issue #75. I understand the idea is a GA-Black Canary series somewhere down the line, but this book deserves better than this. It's a testament that a story focusing in on Jason Todd and Speedy -two DC's most over-the-top soap opera characters- can be this much fun. The banter between Batman and Green Arrow is worth the $2.99 on it's own.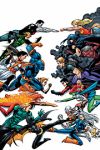 Teen Titans #44
Please, someone explain to be the appeal of Geoff Johns. Everything I read of his is basically based on two things: spasms of often grotesque violence and fan service. Here we get both, with several pages of Teen Titan Torture, plus the return of Jericho and a stupidly obvious get-out-of-jail-free card for Batgirl. Ugh... wake me when Beechen takes over.
Best of the Week: Slim pickings this week, but I'll go with New Avengers.
Posted by Frinklin at March 19, 2007 11:11 PM | TrackBack