Okay NOW it's a new series
The Sonics second-best player doesn't play because of injury, but Ray Allen (finally) goes off for 32 and the Supes win 101-89.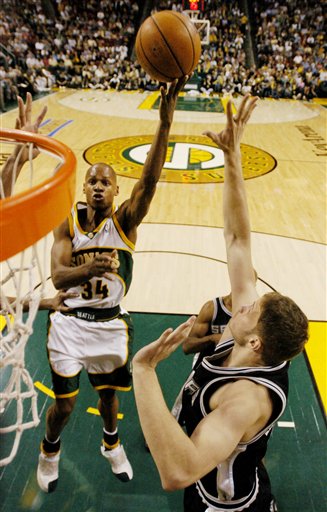 Am I suprised the Sonics held serve? Yeah I am.
If I was a Spur fan, would I be nervous? Just a little. With today's game, Bruce Bowen might have vacated Ray Allen's head. If they can't stop Allen, the Spurs could lose.
It's a big if.
Whoever wins game 5 wins this series.
Oh, and I would like to thank the NBA for making me look like a dolt. After the first games were completed for this round, I asked if any of the four losers" look good enough to win a game, let alone a series?" Since then the Mavs have won a game, the Pacers have evened with Detroit and Washington has been crushed by Miami.
Well, one out of four ain't bad.
Posted by Frinklin at May 15, 2005 08:02 PM