Somewhere there is a car under that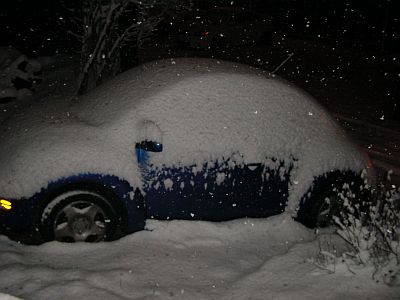 I awoke this morning to snow. I called off work and watched the damned stuff melt before noon. The more dedicated man would have gone in afterwards. I'm not that man. I tagged along with Ensie as she visited the Bob's Hogs store up in Lynnwood, about 50 miles north of Tacoma. We left for home just after 4, about 40 minutes after it had started snowing there. We sped southward, passing the edge of the storm before we hit Seattle. The news types on the radio hit two themes: 1-the storm would stop just south of Seattle and 2-Snow on the roads! Everybody start PANICKING NOW!
We missed the predictable mess on the roads (Seriously, people in the midwest and back east would fall down laughing at how Seattlites handle snow), arriving in Tacoma just after 5:30, sadly confident that we would see no more snow. It started about 15 minutes after we got home. That was six hours ago. According to my ultra-scientific measurement in the backyard we have seven inches now.
Update: Erik has some great -if slightly grainy, they are from his phone- pictures of his walk up 7th tonight in the snow. Tacoma is now expected to get just under a foot.
Posted by Frinklin at January 10, 2007 10:56 PM | TrackBack