Super Bowl Wrap-up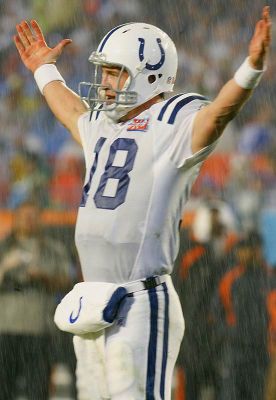 Meh. Dull sloppy game between two teams I couldn't even pretend to care about. I think I actually fell asleep at one point.
FRED ADDS: I agree with this assessment. The game was a mess, the commercials were dull, Peyton Manning probably didn't deserve the MVP award but I couldn't think of anyone who really did, except maybe the rain. The game was far, far less interesting than two programs I watched earlier in the day: Molly Ivins swearing like a sailor and completely overwhelming Brian Lamb on C-SPAN's Book Notes, and the Lawrence Welk Show. (Yes, C-SPAN and Lawrence Welk comprise typical weekend TV fare for me. Yes, yes, I am a hopeless dork and I am at least 4,000 years old. Save your letters.)
I do find it amusing, though, that everyone thought Prince's performance in the halftime show was some kind of revelation, despite the fact that he clearly wasn't really playing his guitar. Am I the only one who noticed this?
Posted by Frinklin at February 4, 2007 11:10 PM | TrackBack